It's My Blog and I'll Write What I Want To
Stepping away from my knitting posts for a quick review of my new favorite online clothing store. I am in no way being compensated for this review, I just came across the site, thought it was too good to be true but ordered a dress anyway, and want to share my experience.
I saw an ad for
Eshakti
on Facebook and was immediately intrigued. If you haven't heard of it, it's an online store where you can buy personalized. For a flat fee of $9.95, they can change necklines, hem lengths, sleeves, and even make the item to fit your exact measurements (all alterations you want are included in the one fee.) You can also buy in standard sizes, and they will adjust all items to fit your height at no additional cost. For me, I have a difficult time finding dresses that aren't too short because of my proportions.
The struggle is real.
I spent hours browing through the site and finally picked one dress to try out. I measured according to their guidelines and placed my order (right now, they have a special for first time buyers where you can get $25 off and free shipping.)
They say it takes 10-14 days to make the dress before it ships, but I ordered mine July 29th and it shipped August 5th. (as a side note, I'm super impressed at the quick shipping from India. I did not expect to get it so soon after it shipped. It makes the cost of shipping worth it.)
Although in this case, the shipping is even more than that since it's coming from India, so I think my apprehension was justified.
The dress was packaged well, arrived completely in tact, and included a tape measure inside. I also liked that they included a card inside that has the names of the people who made the dress, because it gives a more personal touch as a reminder that it's a custom made product.
I tried it on, and I am fairly certain it's the best fitting dress I've ever had. It's perfectly knee-length, isn't too tight or too loose. The fabric feels really good. It's definitely a higher quality than what I come across in most stores now, especially for knits. (Probably TMI, but I have my belly button pierced, and it tends to show through most knits I try on because the material is so thin. Not so with this dress!) I also really love that it's machine washable, because it's been a struggle for me to find nicer clothes that I can wear to work that aren't dry clean only. The color looks exactly like it did on the website.
Bonus points if you know why I picked this dress!
The only "con" to me is that when I opened the bag the dress was in, there was a really sharp plastic-y smell. But it was wrapped in plastic for 5 days as the package made its way across an ocean to get to me. I'm not worried about it, because I know it'll go away once I wash the dress. But if you do order, just be prepared for that aspect as a possibility, if you're sensitive to scents.
Overall though, I'm in love with this dress. Because I haven't mentioned the best part yet:
Every single dress automatically comes with pockets. Every. Single. Dress.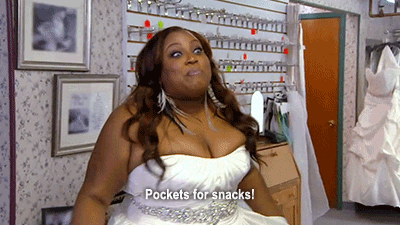 Now, you can take the pockets away if you want for no additional cost, but when I asked my husband "do you know what the best part of it is?" and his immediate response was "pockets," you can tell how important that is to me, and how frustrating it is because it's so rare on women's clothing (even pants) to find real pockets. And these in the dress are deep. They're not the tiny little ones that most women's jeans have, but real deep "man" type pockets.
Now, if you haven't already skipped over to the site, you're probably assuming that this is all really expensive. Depending on what you're used to paying, it could be. But the dresses are between $46-100, pants are about the same, and tops start around $33. So if you're buying designer-ish brand clothing, it can even be cheaper. And to me, it's worth to have a quality item made specifically to fit me, without having to fight with my sewing machine myself.
Yes. Yes I have. And sewing was the cause.